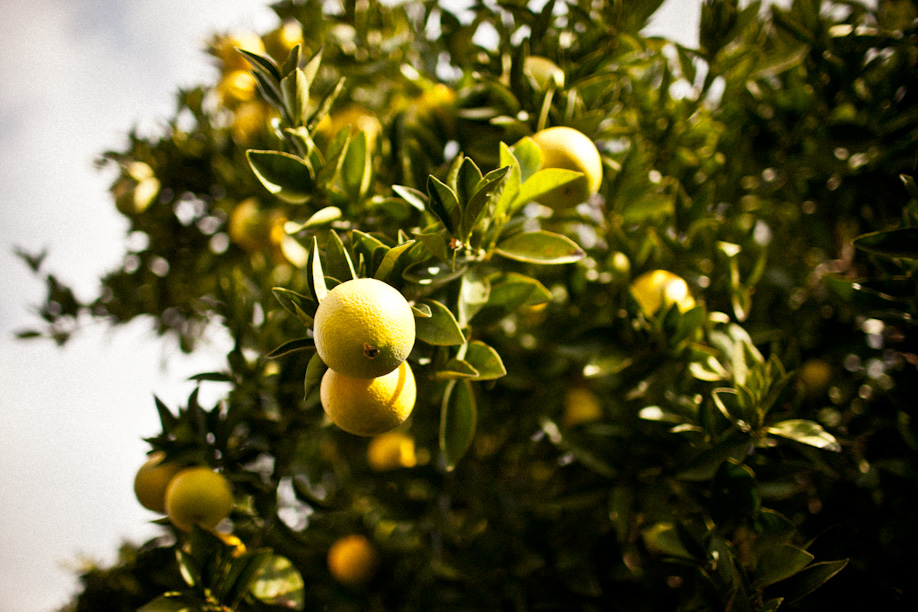 The orange tree in our side yard. Approaching ripeness.
If there is one refrain I am hearing lately from basically everyone, it's "Holy crumbs, it's December!"  I'm in complete agreement.  The older I get, the faster time seems to pass, and this year was no exception.  It makes me happy to know (based on everyone else's reactions) that I'm not alone in feeling this stunned.
I'll save the full extent of this recap for next month, but 2011 was a groundbreaking year for my family, my dearest friends, myself and my life, my future and my business.  Not everything went well.  In fact moving my business 3,000 miles has easily been one of the more devastating, heartbreaking and trying experiences I've yet had in life.  But equally, it has been thrilling, fulfilling and affirming in aspects that likely would have floundered and remained stagnant had we stayed on the east coast.  I have a long, long way to go to get where I want to be, and last January I thought that by now I would be miles beyond where I currently am.  But (on good days, at least!) I am confident that I am building a network and reputation I can be proud of, and I see bright things ahead for myself.
All that positivity aside, I SUCKED at my November goals — hoo boy did I fail! :D  And wouldn't you know it, it had a lot to do with not writing down my goals in a place I could see them each day.  Toward the end of the month I started writing very detailed, daily to do lists with easy-to-complete tasks listed under my major goals for the day.  Normally, I stick with the bigger picture stuff — I need to do X, Y, Z. But I've lately discovered that breaking X, Y, Z down into Xa, Xb, Xc, Ya, Yb, Yc, Za, Zb, Zc not only helps me blow through tasks quicker and with greater efficiency, but boosts my motivation because MAN do I like crossing things off lists.
And I fully admit that, on one particularly en fuego day last week, I zealously wrote "Eat Lunch" as an action item and later crossed that sucker off with alacrity!  Because sometimes, you just need an easy win.  So with that in mind… December goals!
December Goals (November holdovers in italics):
Take written stock of 2011 and write new goals for 2012
Finish Christmas shopping by December 15th
Purchase and decorate our FIRST Christmas tree!
Start writing smaller, actionable to do lists each night before bed
Write all of my wedding thank you cards
Finish painting the interior of our house (office, bathrooms,

closet

)
Reupholster our couch
Start planning our next winter styled shoot
Print and hang some of our wedding / engagement photos
Instate a new lead-tracking system
Blog about our wedding!
Build up to running three miles (I'm nearly there!)
Set up the new office / studio — It was naive of me to think this would be a first-thing-after-moving priority.  This whole owning a home thing is a learning process!
Completed November Goals:
Start on a new branding project
Design and build out our master closet
Finish replacing all of our old two-pong wall sockets
Hold a November family portrait party
Breathe, relax and read a book
Landscape our atrium
Photograph my brother's wedding