My off season is finally over and I'm back to work this month (first engagement session post coming this week!). Consequently, however, my thoughts are a little less focused and I don't really have any life-altering realizations to share with you. I'm okay with this. Not everything has to be serious. Instead, I will show you a photograph of my cat. Ready?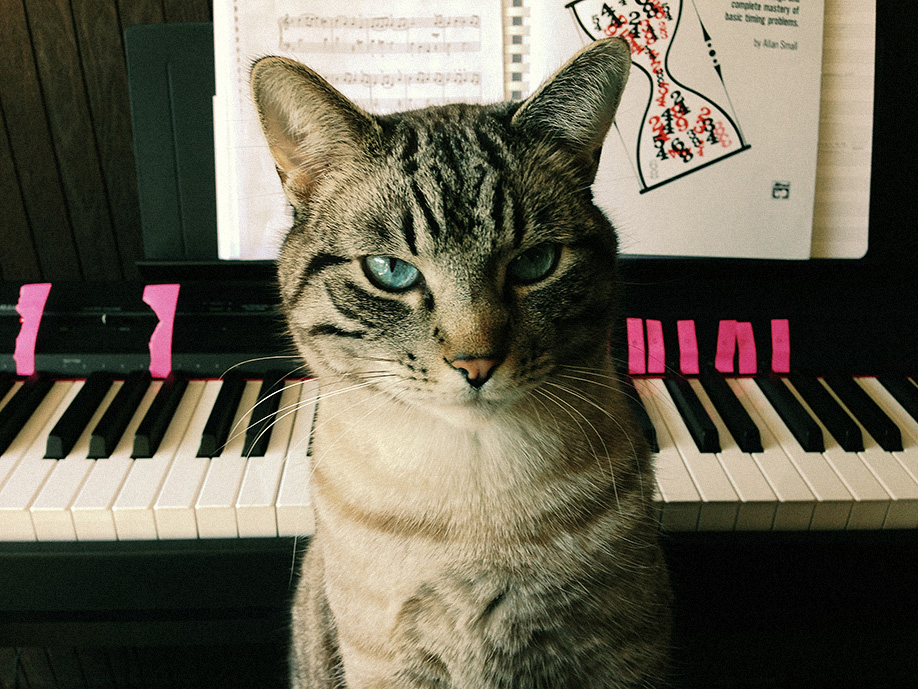 Sherman is both my biggest fan and my toughest critic. I am proud to say that I have diligently practiced the piano for at least an hour nearly every day since I started taking lessons. Sherman is always sitting near me while I play. However, there are times (as shown above) that he disapproves of the piano receiving more attention than he does, which he expresses by shoving himself bodily between myself and the keys. It's effective. And adorable.
In accordance with my thoughts being scattered, so too was my goal completion. I lost my fitbit for most of the month; it weaseled its way to the bottom of my closet. Then I found it, and somehow managed to explode it into about ten pieces. Then I put it back together (it worked!), and promptly lost it again. All of this to say, it's finally back in my possession, but my steps suffered last month. I also couldn't find a flat 10k that worked well with my schedule, so I'm just going to run my own on April 24th. I also totally failed at reading enough. Time to get back on track.
Oh, by the way. I went back and looked at my old receipts. It turns out I haven't purchased a piece of clothing since August of last year—eight whole months. That's sort of nuts to me, but to honor it, I'm going to try to make a shirt this month. Let's see how that goes.
This was super boring to read. My sincerest apologies. How about goals for April?:
Continue practicing the piano, one hour per day, Mondays through Saturdays
Sign up for my summer piano course
Post temporary galleries to this site
Read What The Dog Saw and The 4-Hour Workweek
Walk 10,500 steps each day
Perfect a sourdough bread recipe
Run a 10k on April 24th
Sign up for a half marathon in May
Sew a shirt
Completed March goals:
Start our taxes!
Make my IRA contribution :)
Make wedding "Best Of 2012" post
Start planning a garden
Have any plans this month? Share them with me in the comments! Hopefully they're more organized than mine. :)