I think I've said this before, but it bears repeating: One of the greatest parts of this job is being afforded the honor of meeting a wide variety of people whose paths I might otherwise never cross—not to mention those of their families'—and of knowing them during one of the most meaningful parts of their lives. I often can't wrap my head around what a gift that is, and then weddings like Kate + Evan's snap that reality into such clear relief that I beam with gratitude for days afterwards. The sorts of weddings that I'm asked to document are of a type that allow me access to large pools of really great people. And I don't know about you, but sometimes I need the reminder that there are so many of them out there, just waiting to be met and befriended.
Kate + Evan got married at Holly Farm in Carmel, one of my most favorite venues (and my second time shooting there—remember Jessica + Justin?). And if you can't figure out why, well… there's not a lot I can do to help you. :) Let's look!
Jimmy Choo sure knew what he was doing when he created this particular line of footwear. I think this is my fourth bride to sport some version of them—and I love them every dang time. :)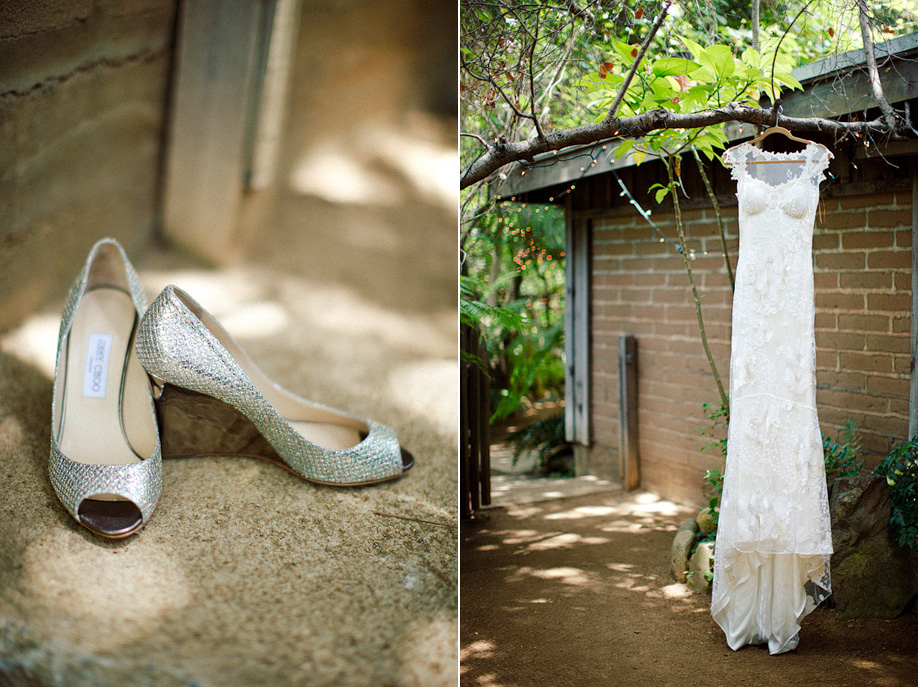 Oh, hi, Kate / Minnie Driver / Lisa Edelstein. :) P.S. Maybe my most favorite makeup picture ever.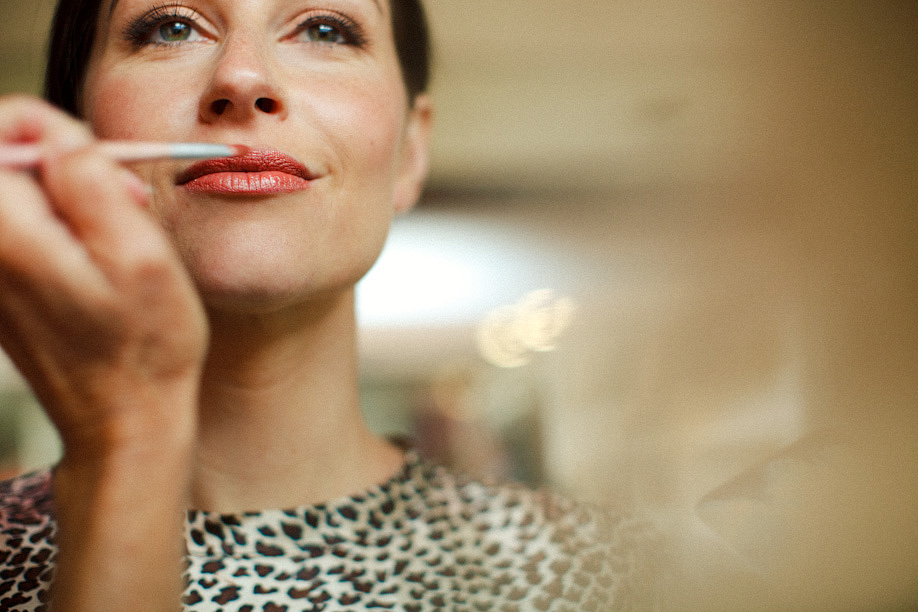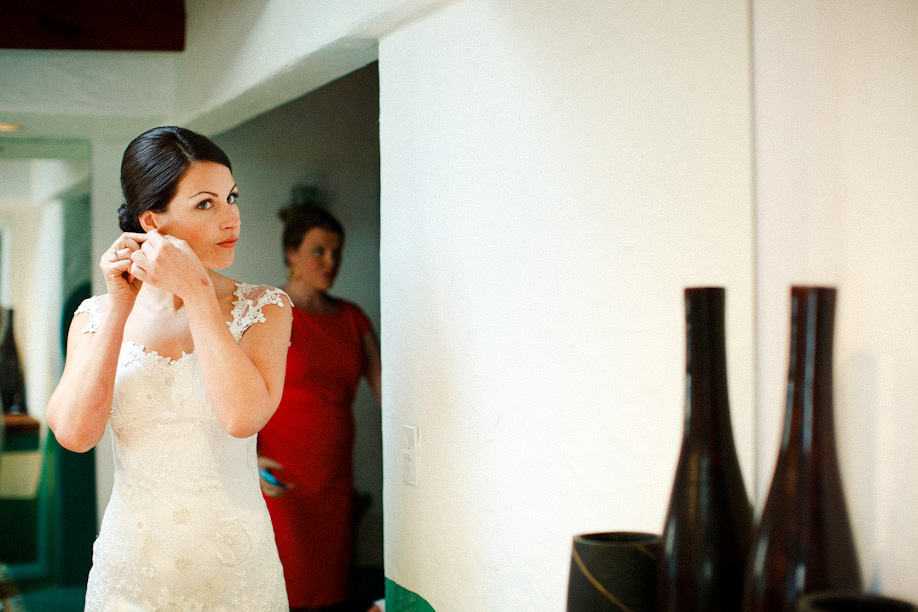 Meanwhile, over in the Banana Cabana (not a joke; that's actually what the house is called), my lovely second shooter Nicole was with the boys. Oh, hi, Evan / Young (and not terrifying) Arnold Schwarzenegger. And that's Evan's younger brother, whom I nicknamed "Baby" all day. Twins!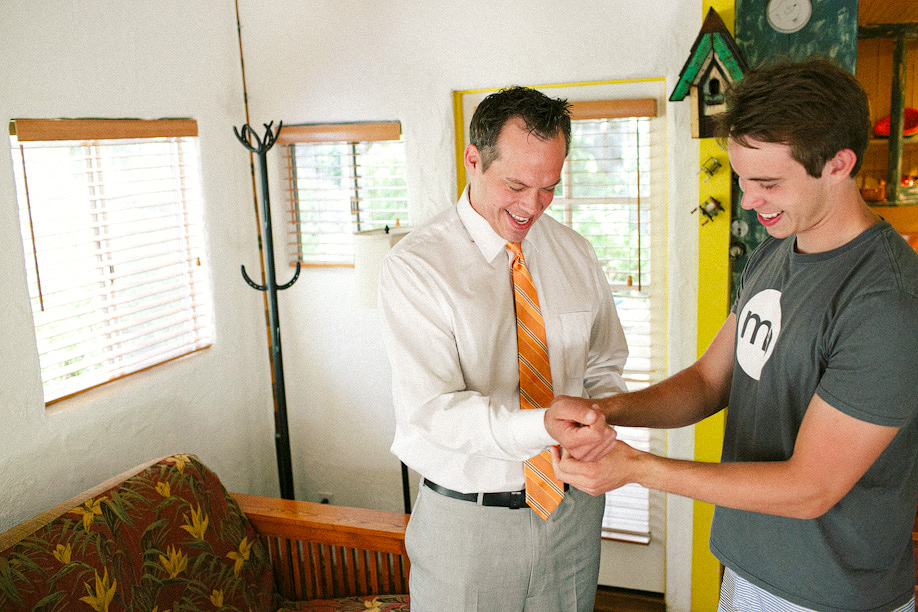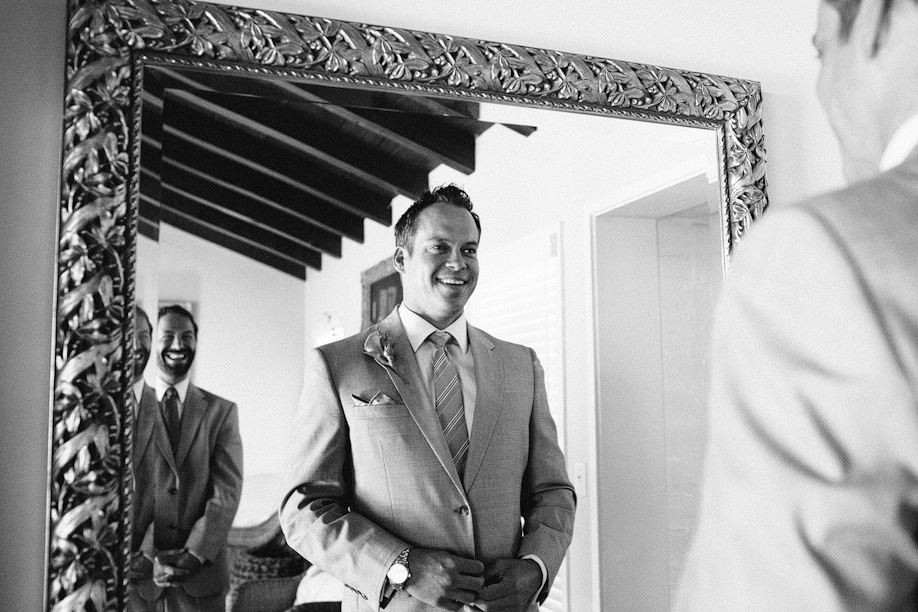 Can we talk about how wonderful the current trends in wedding dresses are? I love a good strapless dress (heck, I wore one myself), but I am so glad to be seeing such beautiful variety lately! Kate's dress is by Claire Pettibone, by the way.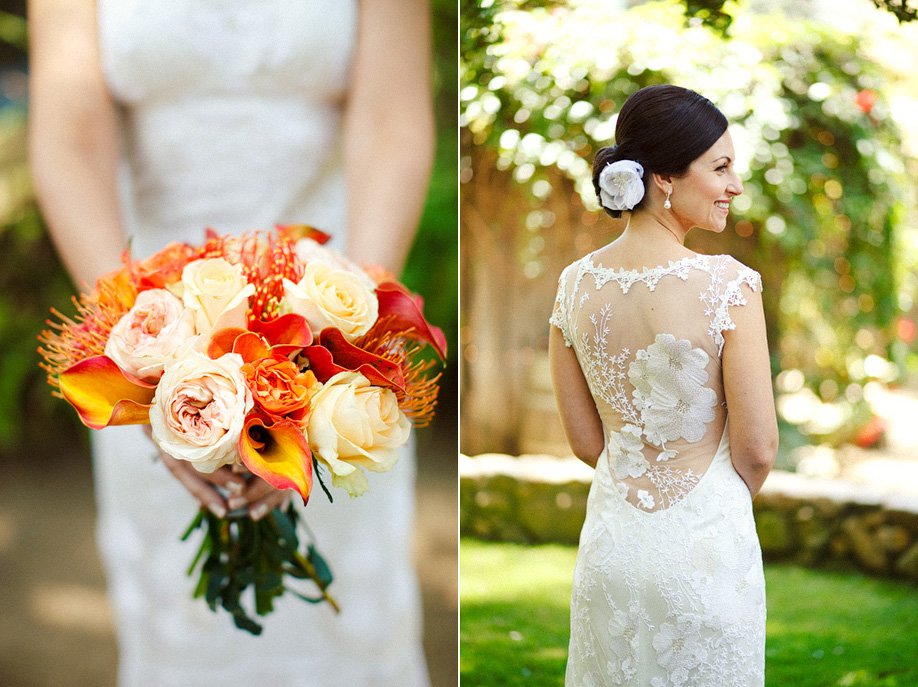 Onto the ceremony! This is where Evan was tucked away before he walked in, quietly reading over his vows.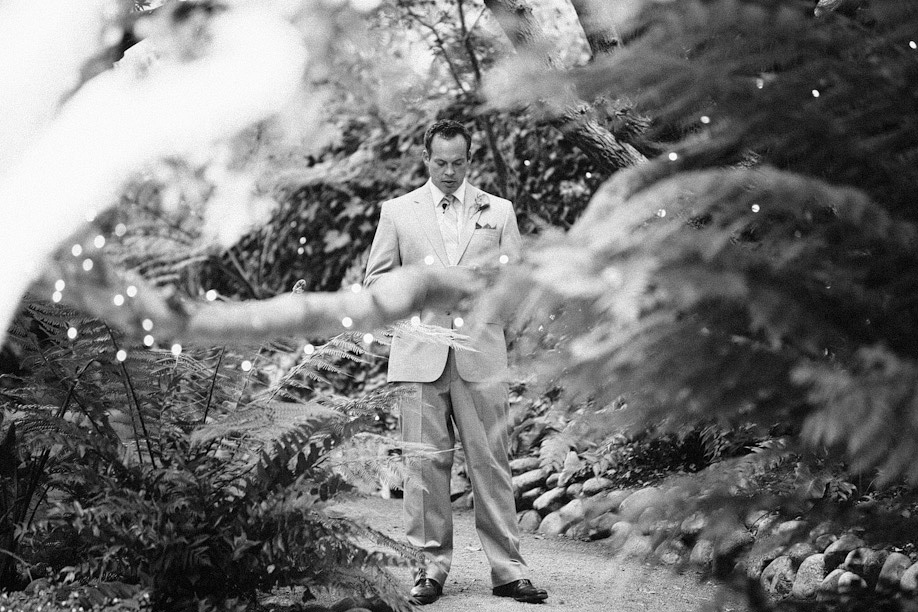 Seeing each other for the first time. :)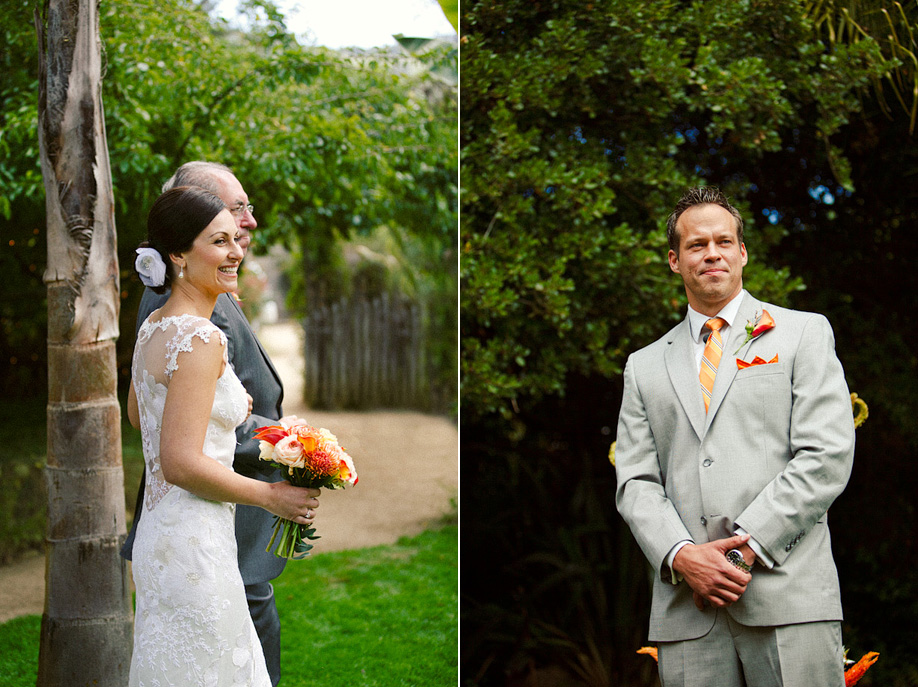 Kate's brother officiated. A+ to his beard!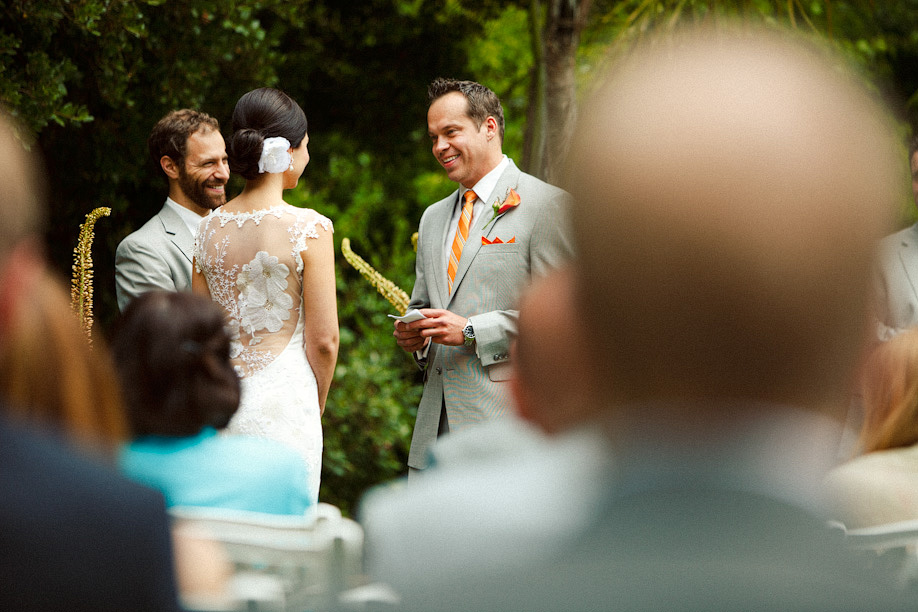 How they stood during their readings (which were awesome):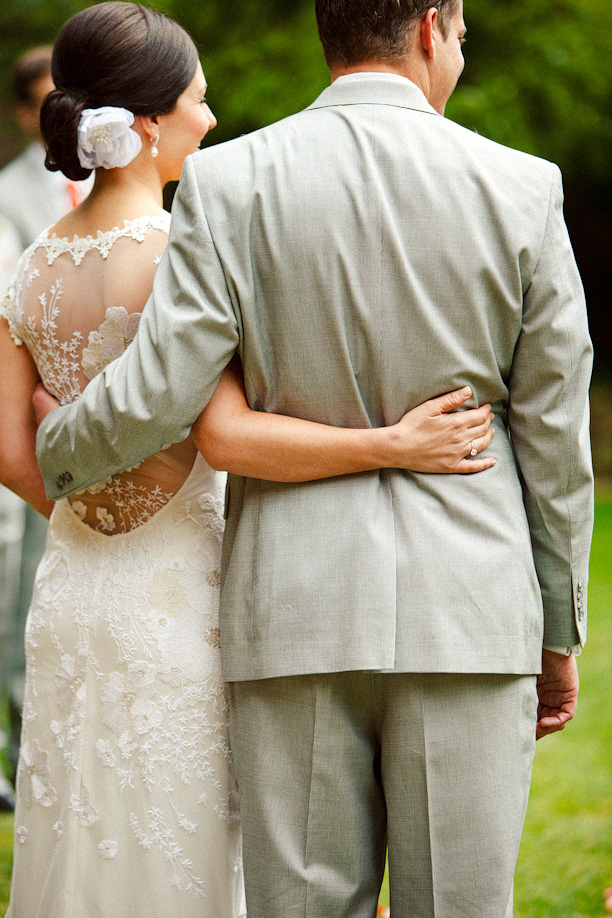 In his vows, Evan included promises to be a good father. And I cried. :)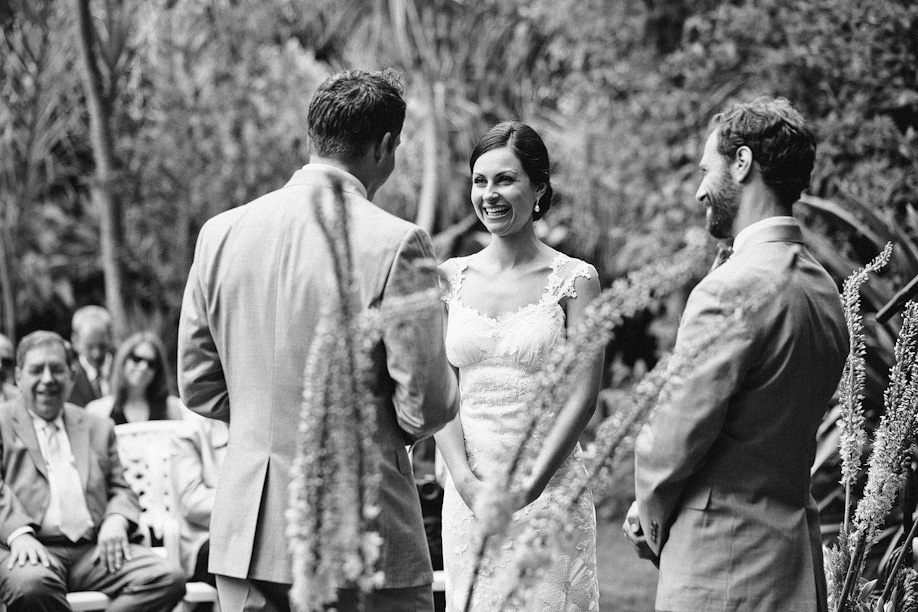 Love how she's holding the ring.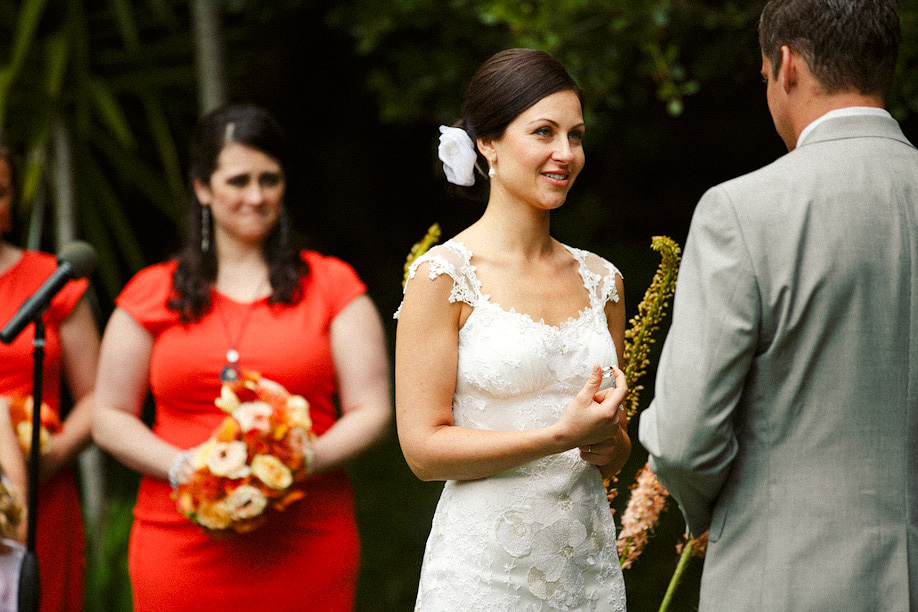 My only (literally lone and singular) complaint about The Holly Farm is that the area for ceremonies is wide open and in full sun, which can make for tough lighting for photographs, especially on grass (everybody's chins turn greeeeeen). So I was kind of crazy relieved when, just before Kate walked down the aisle, it clouded over. It was perfectly timed. I couldn't ask for better light in which to photograph a loving face, such as, oh I don't know, this one. :D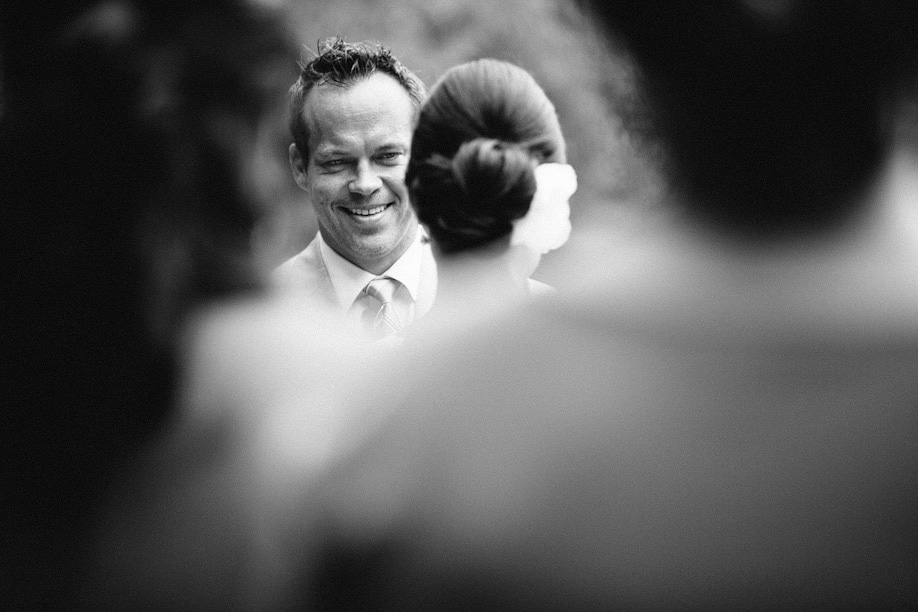 (Inserting my unsolicited advice: If you're getting married outdoors where it's sunny and shadeless, and you have wiggle room over your positioning, move your sweet selves around until you're backlit—so the sun is behind your officiant. Your pictures will be much improved!)
MARRIED!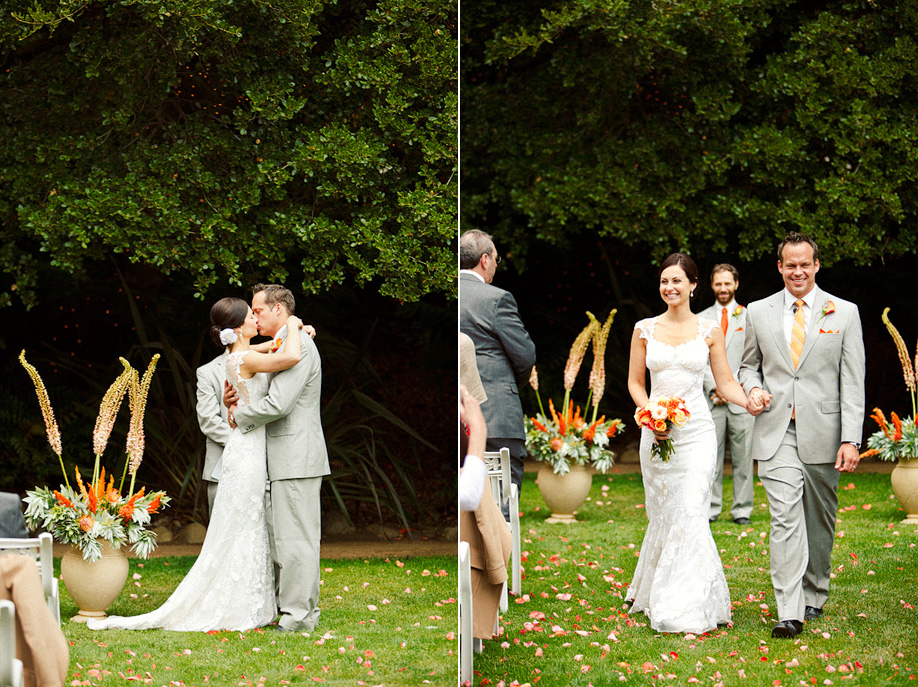 Why yes I do love you, fabulous bridal party. I especially love that each and every one of you are related. (Left to right: Bride's brother and sister-in-law, bride's brother, bride, groom, groom's brother, groom's sister-in-law, niece and brother.) :D Favorite!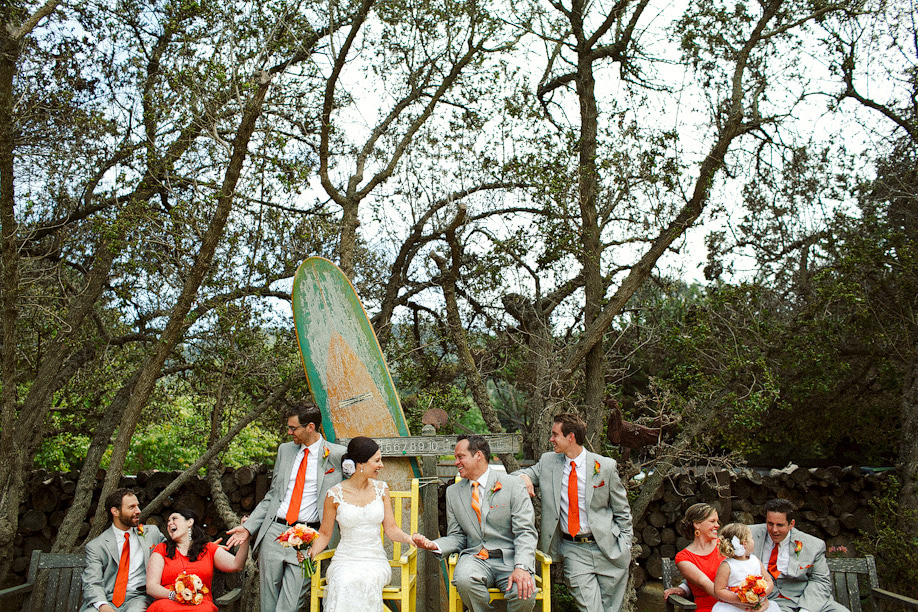 You ladies made my day. :)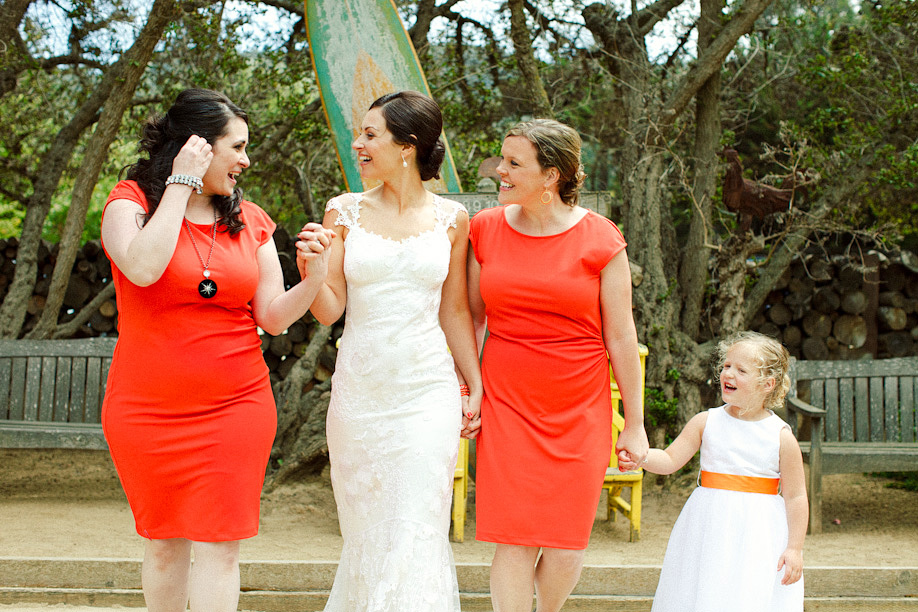 You gents weren't so bad, either. (Far right: Evan's actual twin brother!)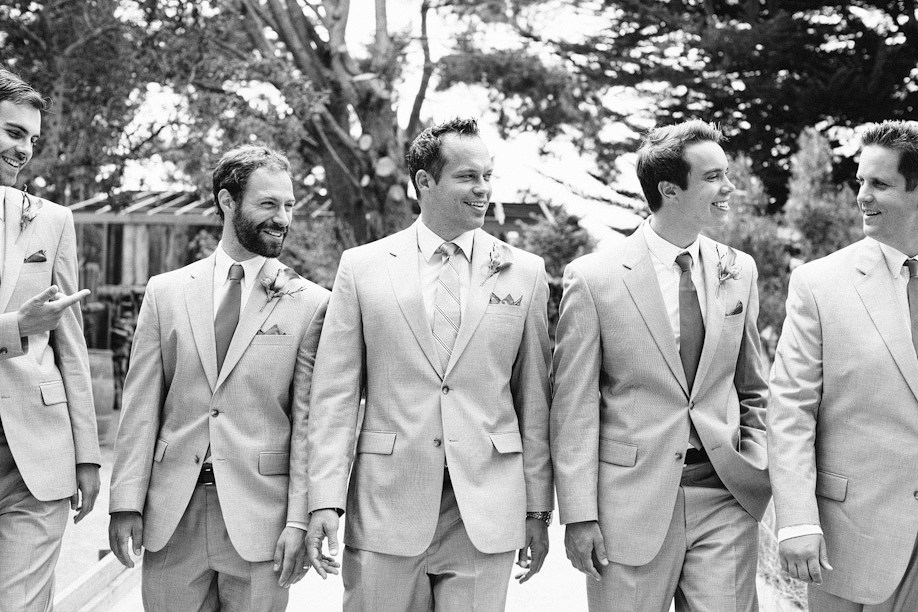 Portrait time! Is it okay that I obsessed over the back of this dress a little bit? Because I did. Favorite.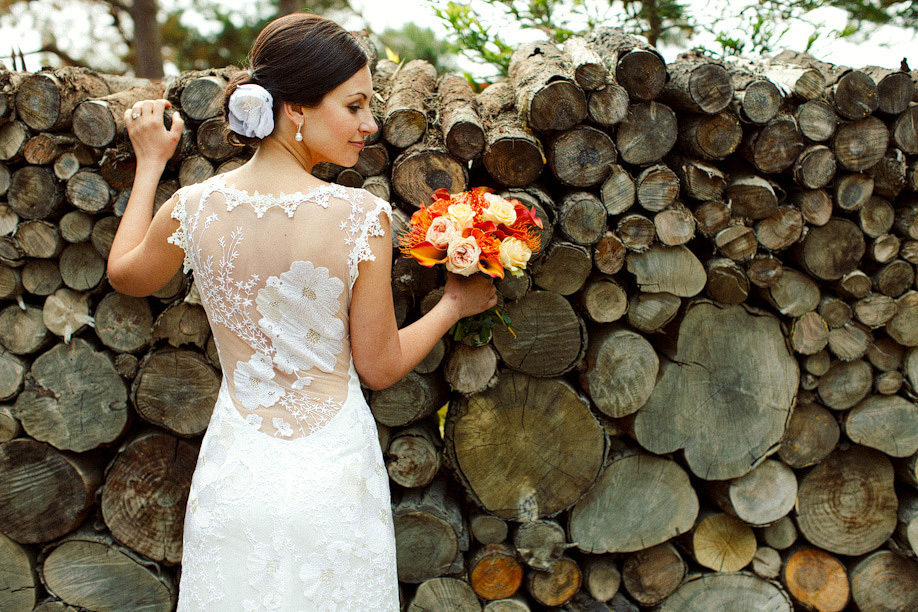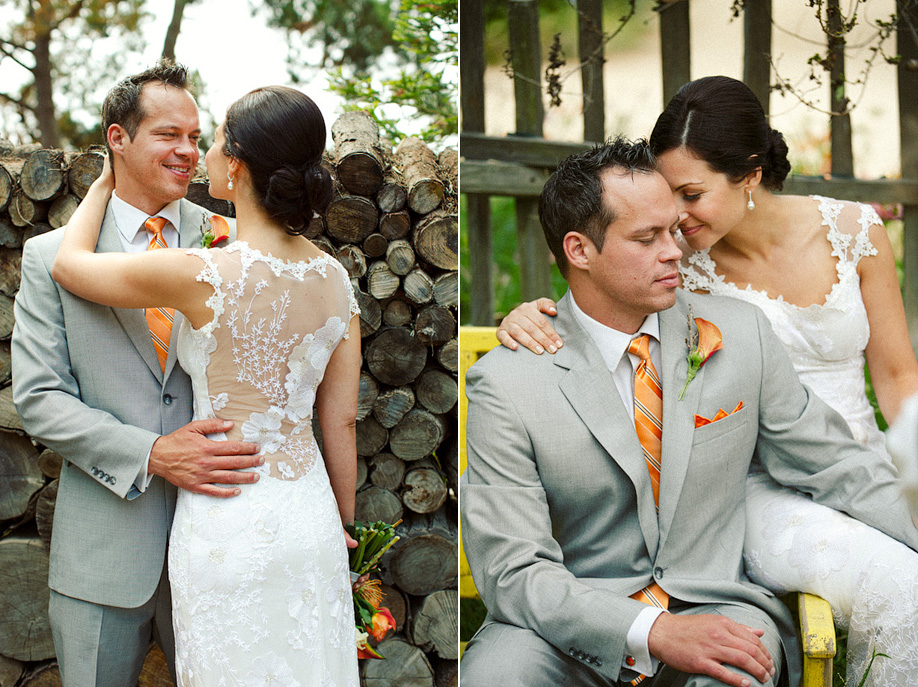 Um, the one on the right? Yeah. Favorite.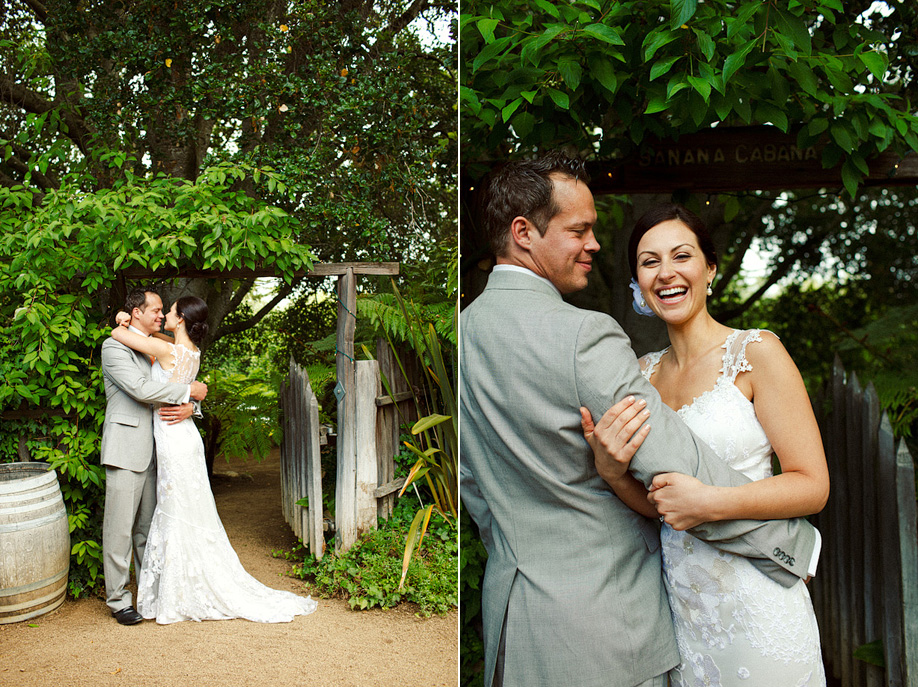 MOST FAVORITE! Seriously, I just want to pour this image into a bowl and eat it with a spoon.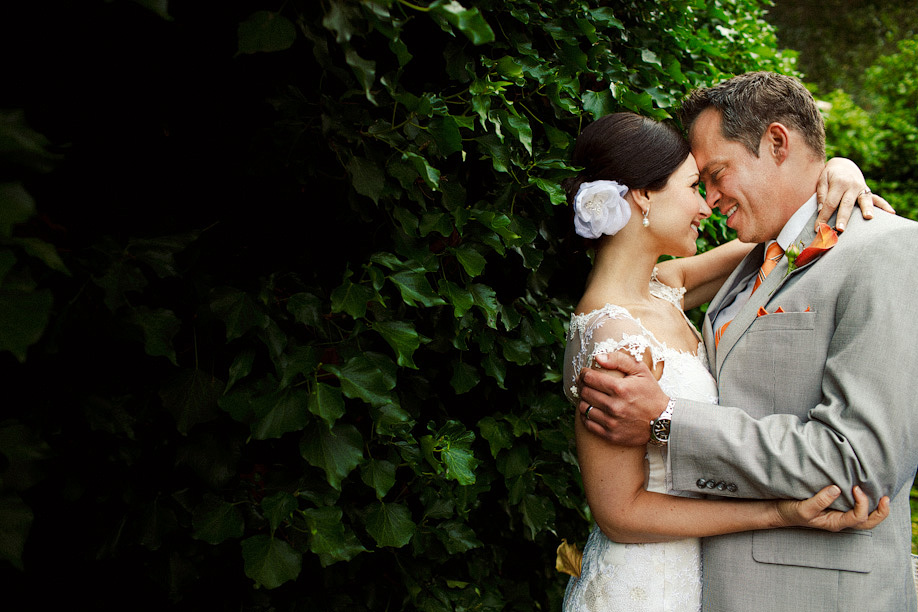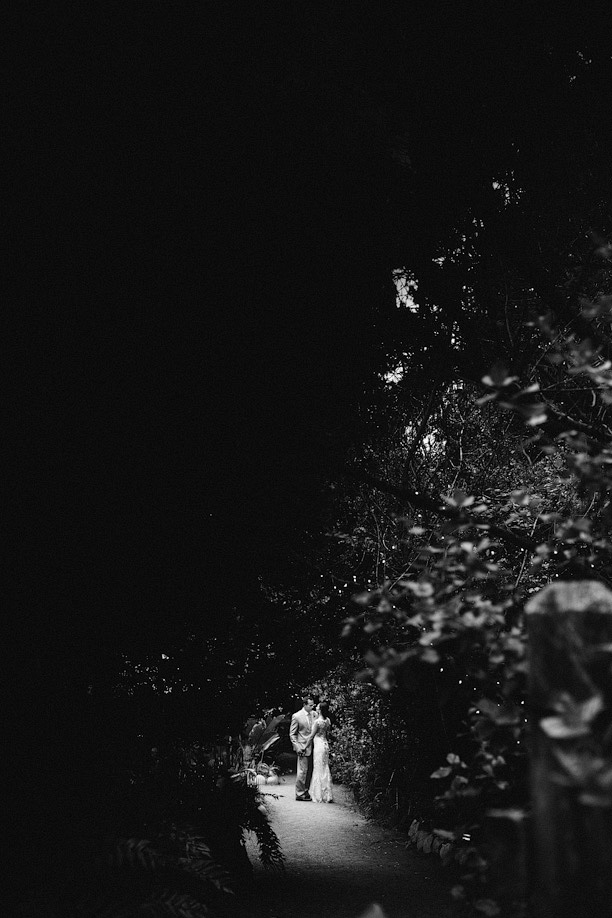 Thanks for putting up with my wackiness, friends. :)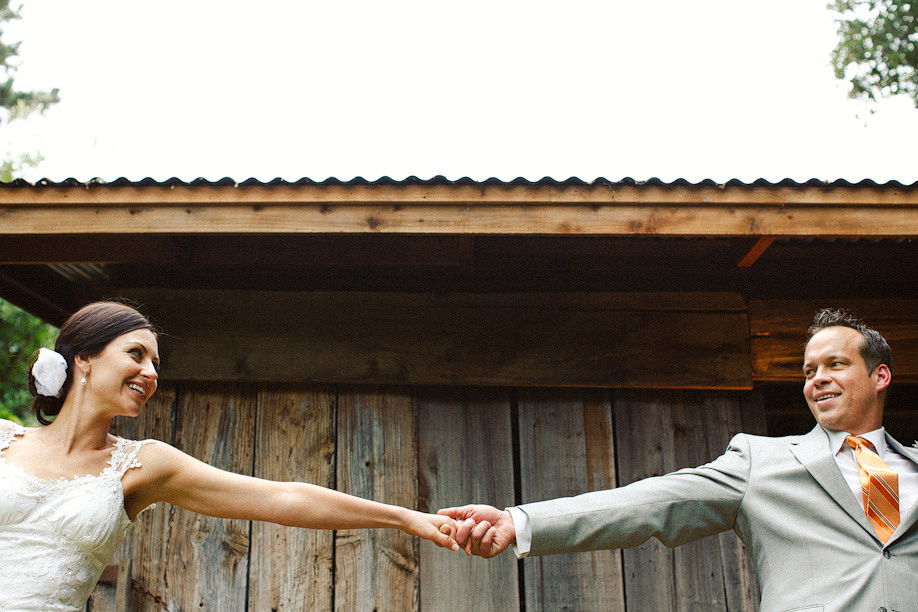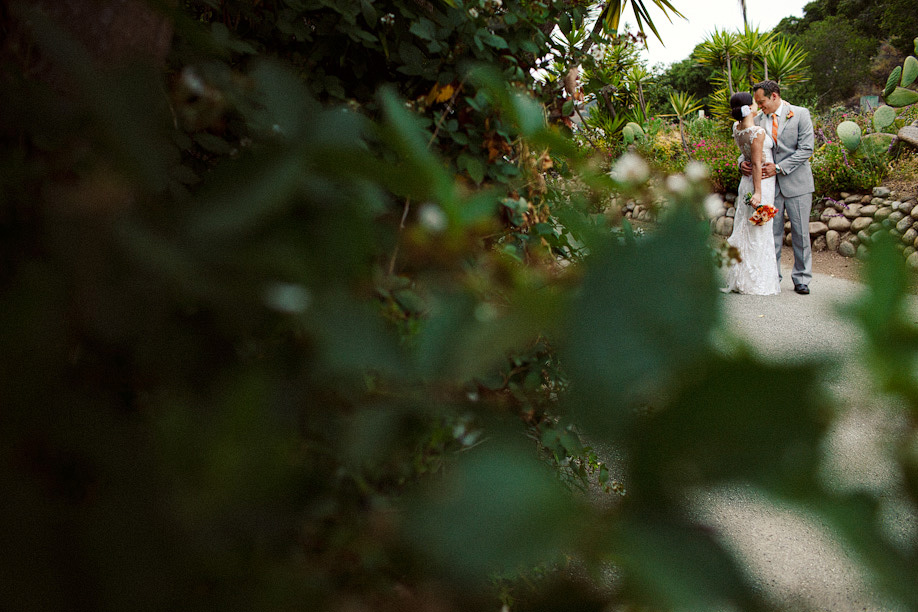 I found a metal crocodile. :)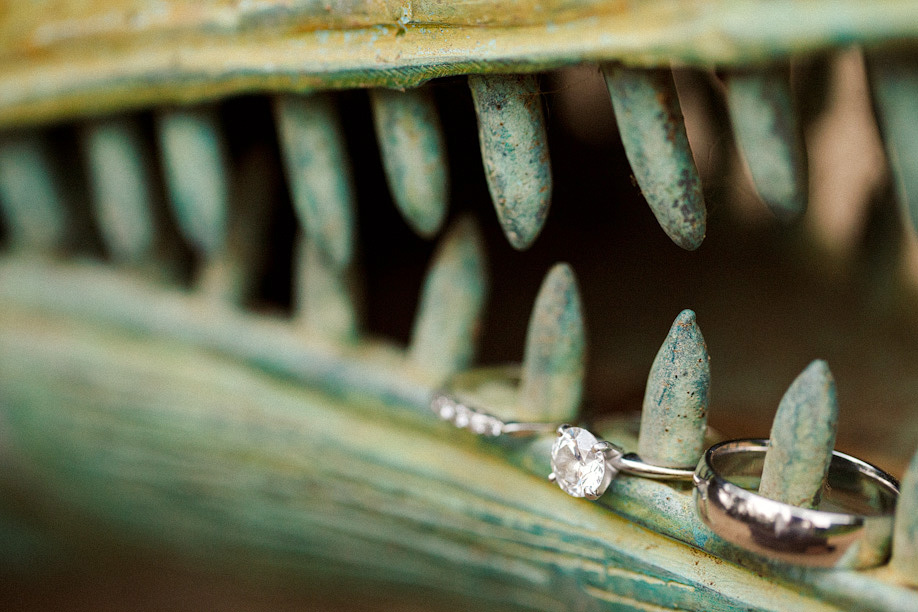 Guys, love is pretty darn great. :)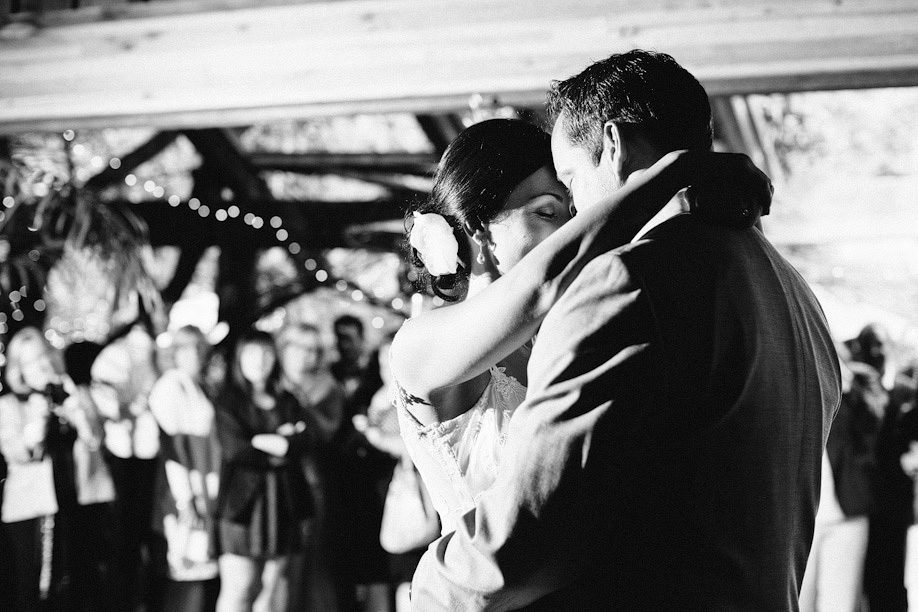 Kate + Evan, thank you for inviting me into your lives and introducing me to your friends and family, who gave seriously some of the best speeches I have ever heard (and I've heard a lot!). You are a very lucky pair to be surrounded by so much unconditional love and support, all of which will serve you well in your journey together as a couple and growing family. Thank you, also, for inviting me back to Holly Farm; the venue fit you perfectly and I was happy to return. Your wedding was an absolute joy—a splendid mix of love and delicious wine. I hope you adore these photos. And I hope you have an insanely memorable time on your round-the-world honeymoon (which, for the millionth time, I am crazy jealous over)! Bon voyage, mes chèries! xo, M